Everything you need to know about carry on luggage
When you choose to carry your luggage onto the plane in the main compartment with you instead of using checked luggage, you'll have some guidelines to follow. You'll need to know about how that carryon might affect what you bring for a personal item, how large the luggage can be and what to expect if your flight is international.
And if you fail to prepare properly, you might find the airline requiring you to check the bag anyway, which can be a frustrating experience. We've compiled some of the most common questions and topic areas all about carry on luggage to help you have a relaxing and enjoyable trip.
What size of luggage is considered a carryon for U.S. domestic flights?
U.S. domestic flights universally accept 22" x 14" x 9" as an allowable size for carry on luggage. If your luggage is the type that has an expandable zipper, you should plan to keep your luggage at its standard, non-expanded setting. For most expandable luggage, adding the extra space will mean that the luggage no longer fits in the overhead bin on many domestic airlines.
If you've never flown with the specific piece of luggage you're planning to take, just do a quick measurement to make sure it meets these guidelines. If you get to the airport and it does not meet these guidelines, they'll make you check your bag, and you might end up having to send things to the baggage area of the plane that you wanted or needed for the flight.
What size of luggage is considered a carryon for international flights?
The size restrictions for carry-on luggage for international flights are slightly different than that of domestic U.S. flights. For international flights, you should prepare for your bag to be 21.7" x 15.7" x 9". Luggage sizes are fairly standard if you fly with the larger, more mainstream airlines. When you fly with smaller, regional airlines, you might want to review the guidelines they provide as they might be slightly different than what you're used to.
Is there a weight limit for carry-on luggage?
Most airlines do not have a weight limit for carry-on luggage. However, Virgin Atlantic sets the carryon weight limit at 22 pounds and both Philippine Air and Qantas airways have a weight limit of 15 pounds.
Although most airlines do not have a weight limit, something you'll want to consider is that you'll need to be able to lift the luggage above your head to place it in the overhead bins. That's why the weight of your luggage before filling it with your belongings is an important factor when choosing a suitcase.
What's considered a personal item for carryon?
Many airlines also allow you to have one personal item that you carry on in addition to your size-appropriate luggage. This carry-on item can be a purse, briefcase, tote bag or other items that meet the required dimensions for your airline. These items must be significantly smaller than your carry-on luggage.
For larger items – such as strollers, infant car seats, wheelchairs, and more – check with your airline to learn their policies for those specific items. In some cases, you might use a musical instrument as your carry-on luggage if it meets the size requirements for the overhead bin. Additionally, airlines have special considerations for larger items, such as a wedding dress in a garment bag, that they give special consideration to.
What can I put in my carry-on bag?
Certain items are not permitted on a plane, regardless of whether you're checking or carrying on your luggage. These prohibited items from both checked and carry-on luggage include:
Firearms
Lithium batteries
Potentially hazardous materials
If you're choosing to keep your luggage with you on the plane, you'll want to also consider the size and amount of liquids you need to pack. All liquids, pastes, gels, creams and aerosol containers must be 3.4 ounces or less.
They must be in bottles or other containers marked for this size. So for example, you can't take a 12-ounce bottle of shampoo with you that only has 3 ounces left in it. Any items that do not meet these restrictions will be confiscated from you at airport security and thrown away. There are no exceptions to this, other than the option to instead check your luggage if you want to keep those larger liquid items.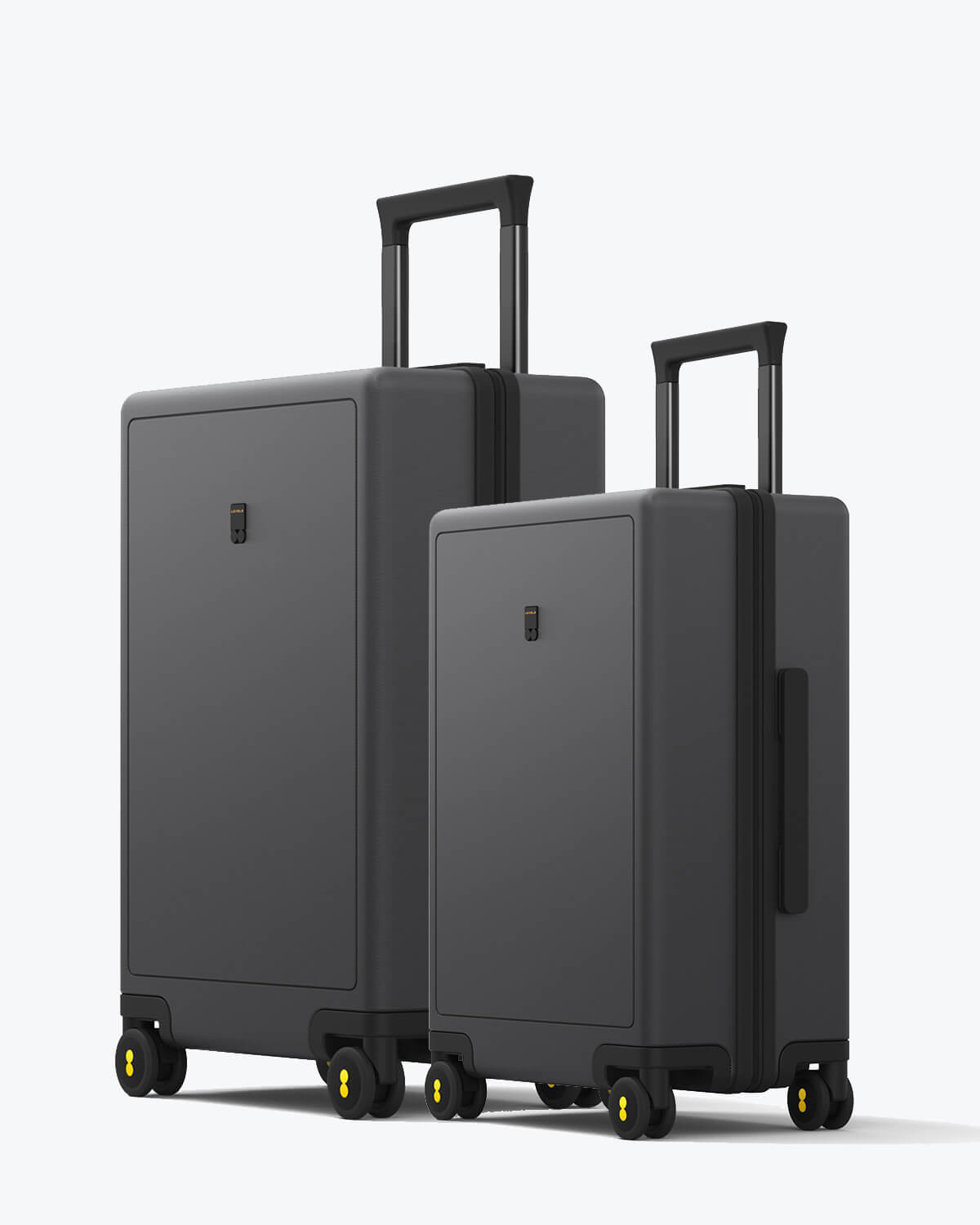 What should I look for in carry-on luggage?
Your carry-on luggage will need to strike the right combination between affordability, durability, and style. Here are the key factors to consider when evaluating carry-on luggage.
Ease of carry: look for wheels that swivel 360 degrees, easy-grip handles, lightweight
Hardshell: luggage takes a hit when you travel. Ensure it's ready to stand the test by getting a bag with a hard-shell case
Dimensions: be sure that the luggage meets the dimensions listed above for being a suitable carry-on bag
Organization: travel in comfort by having a bag that keeps you organized and makes anywhere feel like home
Style: when the style of your luggage matches who you are, you'll feel good carrying it and enjoy the experience.
What's the best carry-on luggage?
LEVEL8 features many stylish, durable and affordable carry-on luggage options. Our bags will become your favorite travel companion thanks to their organizer bag sets and sleek appearance. Plus, they're incredibly comfortable and easy to carry thanks to the four 360 degree wheels that enable you to roll the suitcase how it works best for you.
Combine our carry-on luggage with a laptop backpack that can serve as your personal item during your travels. Save your shoulders and attach the backpack to your rolling luggage thanks to the loop on the back that enables it to go over the luggage handle.
Take great pride in your luggage and use it for many years thanks to the LEVEL8 lifetime warranty (where applicable). See what makes LEVEL8 the best carry-on luggage and checked bags you can choose by evaluating our Pro Collection.
To get the latest updates on luggage & backpacks visit our blog and follow us on Instagram, Facebook, Twitter, Pinterest and subscribe to our YouTube channel.
---